Resources for adult patients
USAIS have put together information and documents, some of which you will find in the information pack that you will receive as part of your assessment. There is a separate page of information specifically for children. You can access this here.. If you have any queries or would like any additional information email USAIS at ais@soton.ac.uk
The links to other sites page is also a useful resource which you can access through this link.
The British Cochlear Implant Group (BCIG) is a unique group of patients and professionals interested in the provision of cochlear implants in the UK. Click on their logo below to learn more about them and their work.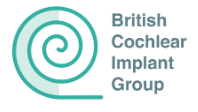 The beginning of the patient journey
For more information on regarding implants and USAIS processes, go to these pages on our site: Cochlear Implants and Bone Conduction Hearing Devices
Introduction to your assessment at USAIS
Association of Anaesthetists patient information leaflets
Essential Information post implant
Learning to listen with an implant
Tips for Listening to Music with your Cochlear Implant
Hints and tips from MEDEL* for adults, children and parents
* This may be a useful external website or blog, however, as USAIS does not recommend specific products or manufacturers a link to this site does not imply a preference.
Devices and Manufacturers
Advanced Bionics
Getting to know your Neptune (for children)
Getting to know your Naida Q90
Cochlear
Getting to know your Nucleus 7
Top tips for streaming using an Apple device
MED-EL
Devices that support hearing
Smartphones – Many smartphones offer features that can help with communication. Some mobile phone suppliers host training events about features on their products. USAIS rehab staff are able to tell you about these features during clinic appointments and workshops. USAIS will post information about training events on this website.
Video calls – some video call apps such as Teams offer a caption service. Speak to a member of our rehab team if you would like more information about this. Contact us on ais@soton.ac.uk
The Otter Voice Meeting Notes app provides automated meeting notes for Zoom, Google Meet, Microsoft Teams when you work from home. Search for speech to text software on your favourite search engine for other options.
Risk of Loss and Damage to processors
Processors are reliable but they can become lost or damaged. Contact the Spares and Repairs team if you have having problems with your processor.
Holiday Loaner
Note that the Spares and Repairs team cannot send processors or parts to another country. It is possible to "hire" a spare processor and associated kit when travelling away from home. This is called a Holiday Loaner. Holiday Loaners are provided at a cost and are hired directly from the manufacturer of your processor. You will need to return the processor to the manufacturer when you return from holiday. The contact details of the various manufacturers are shown below:
Cochlear
Advanced Bionics
MED-EL
Lost or Damaged Processors
An USAIS form needs to completed and submitted when a processor is lost or damaged. The form must be completed before a new processor is issued.
This form must be completed even if you are signed up to the Manufacturer Led Repairs service. In this case, the manufacturer will provide the processor but we need to authorise replacement.
Please click on the link to the Lost or Damaged processor form below.
Do contact the Spares and Repairs team if you have any further queries.
Lost or damaged processor form
Helping with Listening Effort
The cochlear implant is amazing technology. However, even though it helps you to hear, it is not exactly the same as hearing normally.
Everyone has to use some listening effort to understand speech but cochlear implant users work harder than a person with typical hearing because they must fill in the gaps in sound.
The "Go for Gold!" leaflet provides further information about "listening effort" as well as helpful hints and tips on how to manage this.
Go for Gold – Leaflet for Adults
Go for Gold – Easy Read Leaflet