Call 999 if you are experiencing a medical emergency
In a medical emergency call 999. This is when someone is seriously ill or injured and their life is at risk. A mental health emergency should be taken as seriously as a physical health emergency.
You can text the emergency services on 999 but you will need to register your phone in advance. For more information go to https://www.emergencysms.net
Call 111 if you require medical help that cannot wait for a GP appointment, but is not serious enough for an ambulance
If you require a British Sign Language interpreter, please see – https://interpreternow.co.uk/nhs111
For a BSL video – https://www.youtube.com/watch?v=JQGSli7BSeU&feature=youtu.be
You can also contact NHS 111 via textphone by calling 18001 111.
For a wide range of videos on health and wellbeing in British Sign Language – https://signhealth.org.uk/health-video-library/
Emotional Wellbeing and Support
It is important to think about your emotional wellbeing and/or your child's emotional wellbeing, and seek support when necessary.
USAIS Clinical Psychology Support
The USAIS Clinical Psychology Service provides support for children, young people and adults who are under the care of USAIS. The service routinely sees all children and young people who are having an assessment for a Cochlear Implant. Children, young people and/or a family member can also access the service by self-referral or through discussion with the USAIS team at any time.
The USAIS Clinical Psychology service provides support for adult patients – both during assessment for a Cochlear Implant and afterwards. There may be times when the clinician you are working with suggests a psychology appointment as part of your assessment for a Cochlear Implant. They will discuss the reasons for this with you at the time. The service supports those who are experiencing psychological distress related to their hearing loss and/or cochlear implant(s). Adult patients can access the service by self-referral or through discussion with the USAIS team at any any time.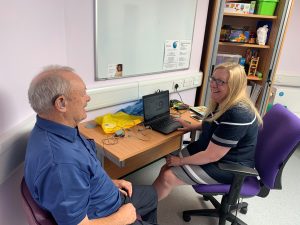 Appointments are held at the Auditory Implant Service.
Please see the leaflet below for further information.
Psychology support close to your home
If you notice that you/your child are finding things overwhelming, or are finding it difficult to cope with emotions more generally, please speak to your GP who will be able to direct you to psychological support locally.
You can also self-refer to many Improving Access to Psychological Therapies services – see https://www.nhs.uk/service-search/find-a-psychological-therapies-service/
If you would prefer to access support designed specifically for individuals with a hearing loss, you may find the links below useful:
There are also a number of self-help tools and booklets, which may be helpful for some patients and/or their families. These focus on helping to understand the emotional difficulties and on developing coping strategies.
Self Help Guides produced by Northumberland, Tyne and Wear NHS Foundation Trust web.ntw.nhs.uk/selfhelp – titles cover a range of mental health issues and are free to access.
The following websites may also be useful to you:
NHS Mental Health – https://www.nhs.uk/oneyou/every-mind-matters
MIND – https://www.mind.org.uk/
Young Minds – https://youngminds.org.uk/
Hampshire CAMHS – https://www.hampshirecamhs.nhs.uk
Samaritans – https://www.samaritans.org/
The Samaritans offer a safe place for you to talk any time you like, in your own way. A text messaging service is available.
Signhealth offers a crisis text message support service. For more information, see their website
www.signhealth.org.uk/signhealth-crisis-text-message-service-powered-by-shout/

Support with mental health and Corona virus
We have produced a list of links and resources for you, our patients and families, which we hope will provide some help and support during this time.