University of Southampton Auditory Implant Service (USAIS)
Building 19
Highfield
Southampton SO17 1BJ
United Kingdom
Note that due to the demolition of the Faraday Building and Podium (Building 21) on the University site, access to USAIS (Building 19) and parking arrangements will change. The changes are shown on the map and are described, further down this page, along with the usual parking situation. The latest changes to arrangements are shown immediately below.
Current Parking and Access Arrangements
Best access to the University site is from University Road – see map with directions below.
Vehicular access to the University site from Granby Grove and Hartley Avenue is not available.
Pedestrian access to the University site from Granby Grove and Hartley Avenue is usually available. Note that this entrance has been completely closed for short periods over the past few days meaning that pedestrians parking to the rear of the building have had to walk longer distances or climb steps to reach Building 19.
ISVR Patient parking spaces are currently outside of Building 28 (see images and map with directions below).
4. There is a short walk from the new parking spaces to the Auditory Implant Service.
5. Firstly look out for the zebra crossing.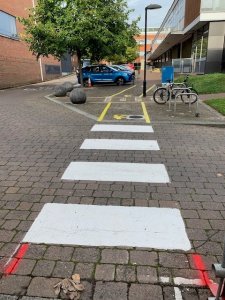 6. Then follow the safest route to Building 19.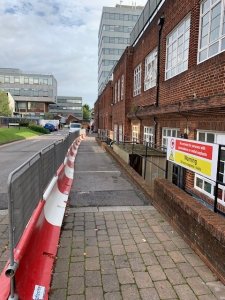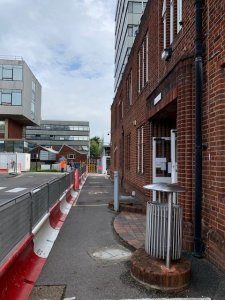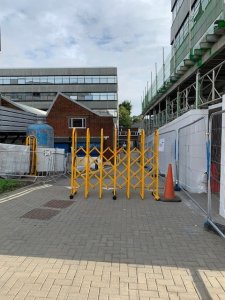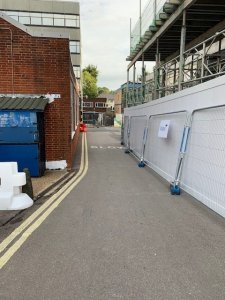 7. Arrive at the Auditory Implant Service.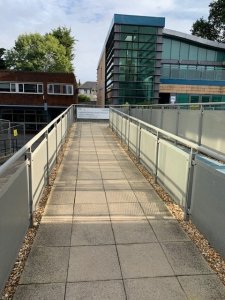 Watch out for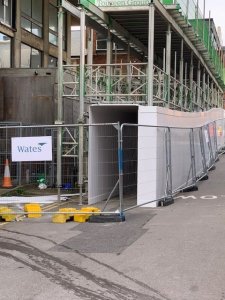 This covered walk way is now open to ensure patients can walk safely to Building 19. The tunnel has lighting and CCTV and was opened on 29th September 2023. Updated photos will be added in due course.
If you are lost on the day or have any further questions you can contact USAIS Reception using the following:
Tel: – 023 8059 5375
Email – ais@soton.ac.uk
Food and catering facilities around the USAIS clinic
Financial help with travel costs to medical appointments
Map and detailed information about how to find USAIS and parking on the University Campus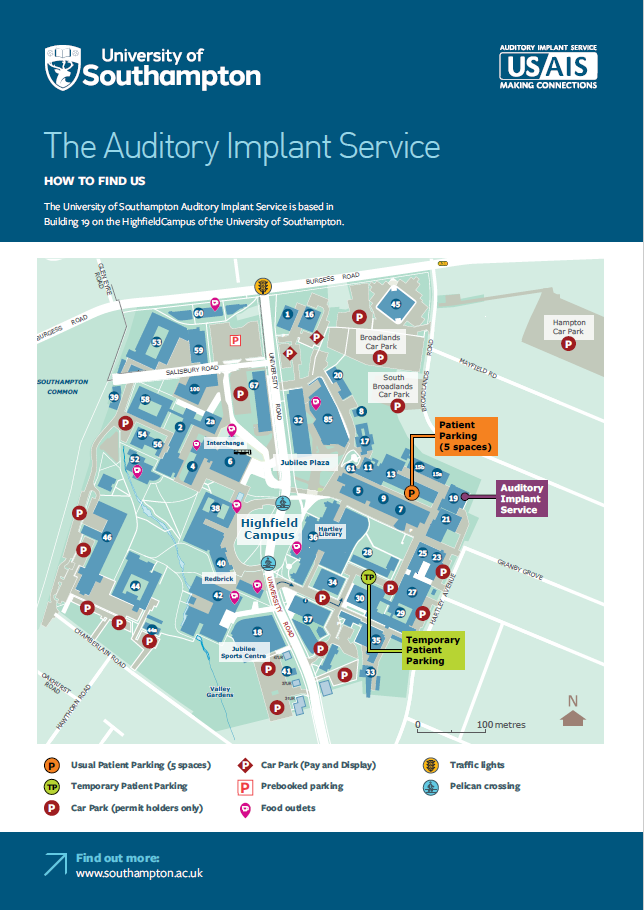 View the University of Southampton location on Google Maps.
The University of Southampton Auditory Implant Service is based in Building 19 on the Highfield Campus of the University of Southampton.
Directions
By foot from the Bus Station (Interchange on the map)

1: From the bus station, go to the pelican crossing and cross to the other side of University Road. From the pelican crossing outside the Hartley Library. Look for directions to the ISVR.
2: With the Library on your right, walk past Buildings 5, 9 and 7.

3: Turn left between Buildings 7 and 9 (Lanchester and Faraday).

4: You will see Building 19 ahead of you on the right.
By rail or bus
Fast trains from London and Bournemouth/Weymouth stop at Winchester, Southampton Central and Southampton Airport Parkway. Trains from Portsmouth and Bristol/South Wales stop at Southampton Central. For information on bus services connecting Highfield campus with the city centre and rail stations please go to www.unilinkbus.co.uk
By car
From the M3 – exit at junction 14, following signs for Southampton (A33). Follow the A33 into Bassett Avenue and follow the signs to University Campuses (Highfield Site).
From the M27 (west or east) – leave the M27 at junction 5 (Southampton Airport) and take the A335 following the signs to University campuses (Highfield Site). You will need to take a right on to Burgess Road as the road forks (by McDonalds). When you reach the Campus (at the traffic lights at the junction with University Road).
When you reach the Campus drive down University Road. Hartley Library will be on the left. Turn left after the Hartley Library and the pelican crossing, then first left after Building 34. You will see a tall building with a blue/grey corner with round concrete bollards in front of it. Follow the one-way system (past Building 28) – see temporary changes to patient parking – until you come to the crossroads, go straight on and you will see Building 19 ahead of you on the right and the parking spaces on the left outside Tizard (Building 13). These spaces are labelled ISVR Patient.
If you use Google Maps and type Building 19 University of Southampton into the search bar, your directions will bring you to the building (note temporary changes to patient parking).
Patient parking
You will need a parking permit available from the Auditory Implant Service. There are 5 spaces marked 'ISVR Patient' outside Building 13 (Tizard).
If the allocated spaces are unavailable, you may also park in any of the car spaces labelled for permit holders. DO NOT park in any yellow hatched areas, the VC reserved bays (Building 37), Gower Car Park, Visitors' Car Park and the Pay and Display Car Park.
There is also parking in nearby side streets for TWO hours only.
Temporary changes to patient parking
On or around 21st August 2023, building works on campus will result in the usual five ISVR patient parking spaces, being moved to the area outside of Building 28. The builders will signpost these spaces and mark out a pedestrian route to USAIS in Building 19. Once the building works are competed, on or around November 2024, the usual ISVR patient parking spaces will be re-instated. Vehicular access to the University site from Granby Grove and Hartley Avenue will cease whilst building works are underway. Pedestrian access will be available but is not guaranteed at all times.
Disabled parking
There are marked bays across the campus for disabled badge holders. You will need to display your disabled permit as well as an Auditory Implant Service permit.
Visitor parking
There is a pay and display car park on Highfield Campus, which is near Buildings 1 and 16. Please note that it can fill up very quickly during the morning. There is also a Visitors Car Park – shown as "Pre-booked parking" on the map. You may only park here if you have received confirmation from a member of staff that they have booked you a space.
Note that parking restrictions on site will result in owners of cars parked incorrectly, receiving a parking fine.