The University of Southampton Auditory Implant Service (USAIS) was established in 1990 to help severely to profoundly deaf adults and children. Since the programme began at this centre the surgeons have implanted over 2,000 auditory implant devices (1,983 Cochlear Implants and 91 Bone Anchored Hearing Devices – up until the end of August 2019).
We treat patients from all over the south of England and the Channel Islands. Auditory implant surgeries are carried out by four surgeons at five hospitals in Southampton, Portsmouth, Salisbury and Hampshire. We firmly believe that the treatment of both adults and children by the same team is a great strength. Each of the four locality teams (East, West, Central and North) has a surgeon, audiologist, hearing audiologist, speech and language therapist and teacher of the deaf. All teams have access to a British Sign Language (BSL) interpreter and a psychologist.
The feedback provided by adult patients has provided valuable knowledge for working with young children who may be unable to report what they hear.
A further advantage of this service is its situation within the University of Southampton, providing a perfect location for high quality research.
Our clinics are primarily held in Building 19 at Southampton University (link to directions below) but we also work from The Elizabeth Foundation building in Portsmouth one day a week
Take a Virtual Tour of our clinic at Southampton University.
Our Mission, Vision and Values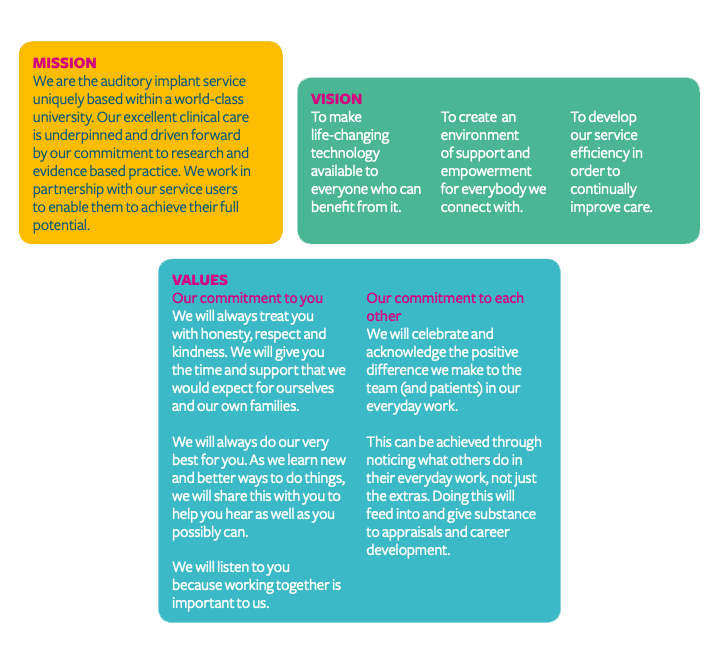 Useful documents:
Directions to University of Southampton Auditory Implant Service
Click here to find out what it sounds like to have a cochlear implant