Sarah Flynn – Clinical Scientist (Audiology) – Retirement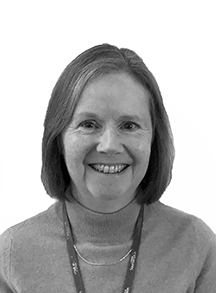 Sarah retired at the end of November 2020. She was an Audiologist and colleague who worked at USAIS as the lead in Bone Anchored Hearing Devices. Sarah reflects on her working life below:
During my 23 plus years at the Auditory Implant Service I have met many interesting and wonderful staff, patients and others in the wider auditory implant field. I have moved buildings, the department has changed it's name and staff have come and gone.
I have enjoyed my involvement in teaching the next generation of audiologists and spreading the word about cochlear and other auditory implants to local services and professionals. I have been lucky to have the opportunity of learning about new innovations and research in the field of auditory implants.
There has been fun along the way with colleagues who have become friends, patient parties and other celebrations. It has always been an enormous privilege working with cochlear implant, middle ear implant and bone conduction implant patients.
I have really enjoyed helping you with your implants and hearing over the years. It has been a real honour to witness how better access to sound has enriched your lives.
I will miss the people I have met through working at the university of Southampton Auditory Implant Service but look forward to new adventures in retirement. I wish you all a healthy and happy future.