This workshop aims to introduce patients to using a telephone, for most, after a break, for some for the first time.
The workshop provides an opportunity to try a range of amplified telephones, discuss strategies, build confidence and have a 1:1 session. Following on from this, patients can opt for a home-based training programme to build on their initial success and learn to manage telephone calls effectively.
"The workshop was very helpful. I can use the telephone with more confidence now."

"Absolutely fantastic! I learnt so much."

"It was great being able to try out different telephones."
Our last Telephone Workshop was held on the morning of 16th July 2019. Patients were invited from our waiting list. We are planning further sessions on the following dates:
5th November 2019 – successfully delivered
17th February 2020 – successfully delivered
17th March 2020 – invitations sent out (observers from the Oxford CI Centre will also attend)
12th May 2020
22nd September 2020
24th November 2020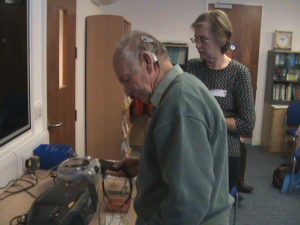 Please contact ais.training@soton.ac.uk if you are interested in attending this course.