USAIS ENT Nurse has arrived
We are so excited! Sally Churcher is an ENT Nurse and is the latest addition to a brilliant team of people supporting our patients across the South of England.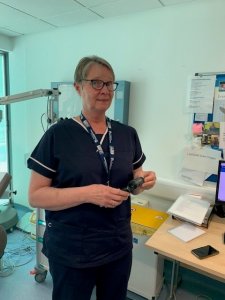 Sally is pictured above in our clinic room, Turtle, where she will be based, usually in the mornings, from Monday through to Thursday. Sally will be supporting the BCHI Service as well as cochlear implant patients, for a short while following their operations. When I asked her about her role she said.
I am so excited to be working in this new role and look forward to working with the team. I expect the nursing role to evolve over time.
Sally has worked in University Hospital Southampton (also known as Southampton General Hospital) for the past 20 years in the Ear Nose and Throat (ENT) Department. For the last nine years she has been an Aural Nurse Practitioner and has supported our own Mr Mitchell and Mr Hellier in their work there.
Aural, according to the dictionary means "of or relating to the ear or to the sense of hearing".
Sally is a keen bike rider and loves wild swimming and yoga as well as reading. She has been running a book club for several years.