Development of a wearable haptic device based on CI professionals and users' recommendations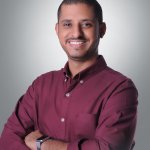 Ahmed Bin Afif is an Institute of Sound and Vibration (ISVR) PhD student. He is working with the Auditory Implant Service (AIS) to explore ways to improve cochlear implant users' access to sound, particularly in more challenging listening environments.
As part of this work, we are looking at developing a vibro-tactile (also known as haptic) device. The device is worn on the skin, either on one or both sides of the body, and picks-up speech and sounds in the environment, converting them into gentle vibrations that can be felt on the skin.
We are keen to involve cochlear implant users and professionals in this research, so if you would like to know more or to take part, there is more information on the AIS website. Please click on the link below: