Xander represents Team GB in Sofia
Xander Hurley, one of our cochlear implant patients, wrote to us recently about his Deaflympics experience. Read on to find out what he had to say…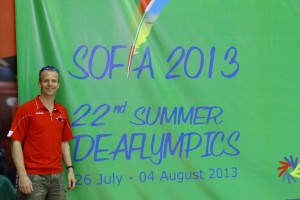 I thought I'd share about my experiences at the Deaflympics so here goes…
The Deaflympics Games have been one of the most amazing time I have ever experienced,  it was great being together training every day, eating the correct food tailored for athletes and competing in the tournament against a high standard of players from all over the world.
My personal experience went along the lines of this…
-Packed a few days before I was due to travel, checked, double and triple checked I have everything I needed including the all-important badminton equipment such as shoes/rackets etc. In the excitement I had to be sure I hadn't forgotten anything!
-Arrived at Heathrow airport too early in the morning! Met up with all the other tired but excited athletes and officials, grabbed a much needed coffee while waiting to check in at the gates.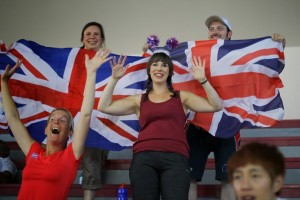 -Boarded the plane to Sofia as soon as the plane took off there was a cheer from the athletes…. TeamGB are now flying to the Deaflympics!
-The first few days was badminton training, and acclimatising to the conditions. We were eyeing the other athletes who were training next to us, trying to gauge our opponents current form, weaknesses sometimes taking notes where appropriate.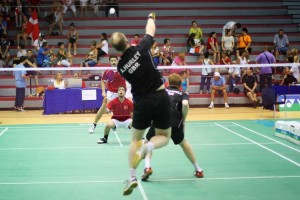 -Attended the opening ceremony, in a flourish of fireworks the Olympic flame was lit… The Deaflympics has now officially opened and for me the badminton tournament is now under way.
-The first few badminton games for TeamGB was a nervous affair, but we safely got through the first rounds in our events, for me the Men's Doubles was the highlight of the day as Dominic Caswell and I beat the 4th seed in the group stages.
-In the last 16 match my partner Dominic Caswell and I played in a Men's Doubles match against a young Korean pair, eventually winning in a nail bitingly tight and close match, final score 21-14, 15-21, 30-29! We have now reached the quarter finals, our personal best result at International badminton level, we have made it into the top 8!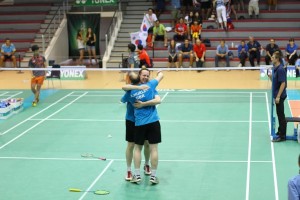 -Unfortunately our road to the medals ended here, we lost the Men's Doubles quarter finals against a very strong Thailand side, also I lost the mixed doubles with my partner Leslie Holdsworth in the last 16 against a Russian pair who eventually won Silver.
-After watching the badminton Semi-Finals/Finals we quickly watched some of the other sports such as Athletics, Football and Swimming to take in some of the Deaflympics atmosphere.
-Attended the closing ceremony and party afterward, was a fantastic affair, after the speeches and in a flourish of fireworks the Olympic flame was extinguished.
-Arrived back at Heathrow to a crowd of Deaflympics fans and British flags!