Information supplied by VoluntEars
VoluntEars is a specialised organisation that arranges overseas volunteering for the D/deaf community. You can read about us here: www.voluntEars.info
What we do
We started by taking people from the D/deaf community in the UK to Sri Lanka to help with renovation work in poor local deaf schools, do educational activities with the local deaf students and visit some of the must-see sights; we also help at a turtle project for a day, volunteer at an elephant orphanage and walk up a famous mountain! Some volunteers also work alongside local teachers in the classroom in more formal teaching roles. We now also work in India and Nepal.
All our trips are accompanied by experienced BSL Communicators to enable smooth communication throughout every trip.
Who are our volunteers?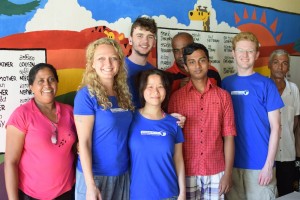 Our volunteers are a mix of D/deaf, hard-of-hearing and hearing people who work with or are related to D/deaf people.
We welcome all ages; from young people at school, college or university to people taking a short break from their career and older people looking for an overseas trip with a difference. Our volunteers often find these trips quite life changing, inspiring and confidence building. Families also join us!
You can watch a video and read feedback from hard-of-hearing volunteer Karolina Pakenaite on this page of our website.
Who benefits from our trips?
Volunteers gain huge confidence from working in a group with other D/deaf and hard-of-hearing people while exploring a stunning new country. Equally, we work hard to ensure the local deaf school benefits from our work.
What people say about us
You can read feedback from our volunteers here: http://www.voluntears.info/#!case-studies/c1ob7
and a recent article in British Deaf News magazine here:
British_Deaf_News_-_VoluntEars_article_March_2016.pdf
Here's our Introduction PDF: VoluntEars-Introduction-2016.pdf