Tea Party on 17th November 2019 in Islip, Oxfordshire
Cochlear Implant Users Autumn Party in Islip, Oxfordshire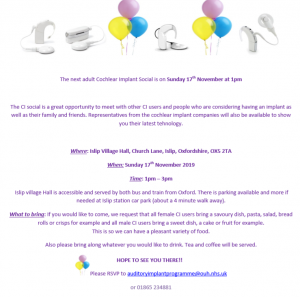 The party will take place at Islip Village Hall, Church Lane, Islip, Oxfordshire OX5 2TA on Sunday 17th November 2019 from 1 pm to 3 pm.
What to bring: If you would like to come, we request that all female CI users bring a savoury dish, pasta, salad, bread rolls or crisps for example and all male CI users bring a sweet dish, a cake or fruit for example. This is so we can have a pleasant variety of food.
Also please bring along whatever you would like to drink. Tea and coffee will be served.
Please RSVP to auditoryimplantprogramme@ouh.nhs.uk
or 01865 234881
PS. SAT NAV. USERS – Islip Village Hall, Church Lane, Islip, Oxfordshire, OX5