Sophie Woolley's play about a cochlear implant experience (with sub-titles) – Augmented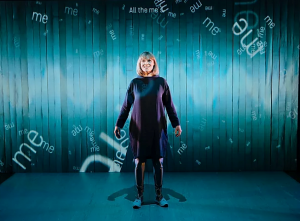 This brand new play by writer and performer Sophie Woolley is a personal story about the joy, and conflict, of becoming 'hearing' again after 22 years of progressive deafness.
It is performed as part of the Gateshead International Festival Theatre (GIFT).
The performance will be streaming online at GIFT Festival on Saturday 2nd May at 4 pm.
Due to Covid-19, this year's GIFT Festival has been re-imagined online providing a digital space for viewers to come together and experience work and participate in virtual discussion events and workshop activities.
Tickets are limited and you Pay What You Decide. Once you have purchased your tickets you will receive an email with details on how to access your event online.
Augmented was filmed at Salisbury Playhouse last month.
The running time is 70 minutes and it is subtitled.
The way to book is to reserve an Eventbrite ticket here.
The play is performed by Sophie Woolley and directed by Rachel Bagshaw, produced by Told by an Idiot, designed by Laura Hopkins and Khadija Raza, Lighting and projection by Johsua Pharo with sound and composition by Adrienne Quartly.
For more information about Sophie Woolley and Told by an Idiot click on links below: