Do you have a deaf child? Do you wish to learn British Sign Language as a family?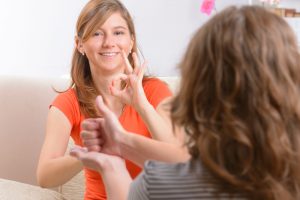 Through funding [sonus] can offer 5 fully funded sign language sessions per family taught at your home with an experienced deaf sign language tutor for families wishing to integrate British Sign Language within the family environment.
*This offer is for local families within the Hampshire area.
For more information

please contact Crissy Dommett, Business and Communications Manager on C.Dommett@sonus.org.uk or telephone 02380 220 225