Seminar on Auditory Processing Disorder, Hearing in Noise and Hyperacusis on 4th March 2020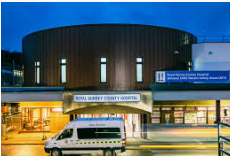 The 2nd Seminar on Auditory Processing Disorder (APD), Hearing in Noise and Hyperacusis will be held at the Royal Surrey County Hospital on 4th March 2020 from 9.00 am to 12.30 pm
This is a joint event organised by the British Society of Audiology and the Royal Surrey NHS Foundation Trust.
The speakers at this seminar will be:
Dr Hashir Aazh, Team-lead for the Tinnitus and Hyperacusis Therapy Clinic, Royal Surrey County Hospital
Professor Stuart Rosen, Professor of Speech and Hearing Science, University College London
Professor Nicci Campbell, Audiological Scientist, University of Southampton Auditory Implant Service
The Seminar is free, open to anyone and places will be allocated on a first come first served basis. Please register for your place by emailing:
rsc-tr.AudiologySeminars@nhs.net by 15th February 2020.
For more information including a Seminar Agenda click on the link below:
2nd Seminar APD, Hearing in Noise and Hyperacusis
If you have a query please contact us on ais.training@soton.ac.uk