Scholarship for Baha and CI patients
Could you apply for a £6,000 education scholarship?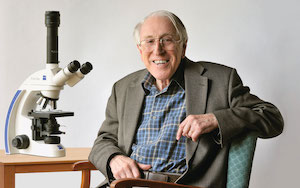 Cochlear offer two scholarships to help implant recipients achieve more in continuing further education at an accredited university, college or other educational institution. If you are completing your final year of school or Sixth Form College and have been accepted onto a university or tertiary education course, if you're a mature aged student or a younger student currently undertaking a university degree or other tertiary education course, then you can apply!
There is one scholarship open to Cochlear Nucleus recipients and one scholarship open to Cochlear Baha recipients.
The Graeme Clark Scholarship for Cochlear™ Nucleus® implant recipients
The Anders Tjellström Scholarship for Cochlear™ Baha® implant recipients.
These scholarships are open to recipients in the UK and Ireland and are awarded on the basis of academic achievement and a demonstrated commitment to the Cochlear ideals of leadership and humanity. (One prize winner per scholarship).
Submission Deadline
The deadline to receive submissions is 15 February 2020.
More Information
Information explaining each scholarship criteria and process can be found on the Cochlear website.
Download an application
You can download an application here:-