Review of Drumming Workshop
One of our adult cochlear implant users successfully ran an African drumming workshop for other cochlear implant users. Below she summarises the experience: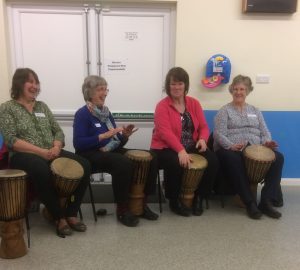 African drums are beautiful instruments. They are carved from a hollow length of tree trunk and beautifully patterned on the outside. The tops are cowhide and all have a mellow sound when tapped. As each one is a different size there are a variety of tones and most importantly all react well with a cochlear implant.
Just before Easter I was privileged to be part of a group who enjoyed an afternoon of music making on these beautiful instruments. Four of us had cochlear implants another seven were from a deaf group and the others were family and friends who had come along for the fun.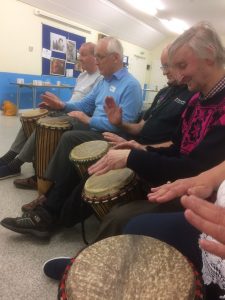 Our tutor Luke knew we were adult beginners and would not like to show ourselves up in front of anyone and taught us accordingly. We learned to tap the edge of the drum and to slap the top. We played a long unison piece using question and answer word patterns, and then had a break for coffee and chat. It was good to meet other people who wanted to make music and find out their experiences. After the coffee break we moved onto part playing and played a piece based on African countries and then played a game using our names. Finally our tutor, Luke, played us a solo by request. It was a great afternoon for those who want to get back into playing post implant. The verdict was when can we do it again?
If you would like to be kept informed of future plans please email me on cidrumming16@gmail.com.
-Sarah Smith