Results of the Friends and Family Test
We regularly ask our auditory implant users what they think of our service. We listen to all feedback and are always making changes in order to improve our service. We would love to receive more comments about our service, perhaps you have an idea of how we could improve? If so please get in touch.
Results of the Friends and Family Test- September 2014
Patients with Auditory Implants attending the Auditory Implant Service for a review during the first two quarters of 2014 are being asked the following question:
 "How likely are you to recommend the University of Southampton Auditory Implant Service to friends and family if they needed similar care or treatment?" with answers on a scale of extremely likely to extremely unlikely.
This is known as the Friends and Family Test and is being used in Hospitals and Clinics used by NHS patients and service users as a way of assessing the quality of the organisation.
The FFT score is worked out by calculating the proportion of service users that respond to this question that are "extremely likely" to recommend the service.
| | | |
| --- | --- | --- |
| Month | Number of Responses | FFT Score |
| April | 29 | 67% |
| May | 33 | 70% |
| June | 37 | 76% |
| July | 44 | 84% |
| August | 37 | 86% |
| September | 31 | 74% |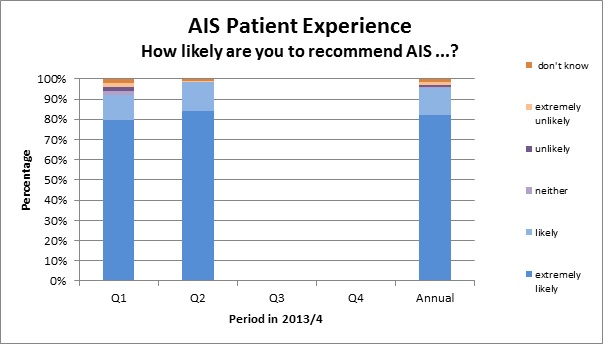 If you did not complete a card on your visit and would like to do so now please click on the link below:
Click below to view the results of the Patient Survey 2014.