Receiving the gift of sound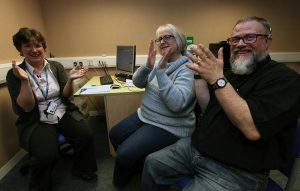 The University of Southampton Auditory Implant Service (USAIS) has welcomed its first ever couple to receive cochlear implants at the same time.
Around 13,000 people in the UK now have cochlear implants to assist their hearing, with a large number of those – just over 1,100 – receiving their implants through USAIS which serves as the regional centre for the south and is the only service of its kind based at a university rather than at a hospital.
Deaf from birth, Neil and Helen Robinson had implant surgery in November 2016, performed by Mr Tim Mitchell, Consultant Ear, Nose and Throat Surgeon, at the Nuffield Health Wessex Hospital in Chandler's Ford, Hampshire. The couple, now in their 50's, returned to USAIS in January 2017 to have their implants switched on during the same session. Until that moment, Neil and Helen had lived in a world virtually without sound, communicating with each other via sign language, lip reading and frustrating attempts to use hearing aids.
The inner part of the type of implant they received houses 16 electrodes which receive information sent by the processor on the outside of the skull. When this happens pulses of electricity are sent to the brain which then deciphers those pulses into sounds.
"In the first instance, we're ensuring that all of the electrodes that are switched on are working in a satisfactory way and the next step is to make things audible and comfortable and then after that we may look as well to see if we can ensure that pitch perception is appropriate," said Dr Mary Grasmeder, Clinical Scientist (Audiology) who performed the switch-on. "People who have been deaf for some time don't have the same expectation of what sound will be like compared with someone who has just lost their hearing. Because their auditory system is not so well developed, it will be more difficult for them to process the information and to understand it."
Helping to improve lives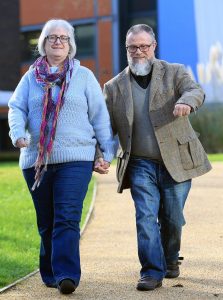 Exactly how much the pair will eventually be able to hear remains to be seen but their experiences will help researchers shape future understanding about how the implants can benefit a less- developed auditory system. For Neil and Helen, each day since the switch-on has brought new challenges and surprises as they begin to explore their 'new' life in the hearing world.
"I think it's given me some more confidence in myself," said Helen. "I'm still deaf. If I take the implant receiver off, I'm still deaf but I have a strong identity and I think its more confidence."
Neil adds: "The gift of sound – that gives independence."
"I like listening to the kettle when it's boiling; I like to hear that," says Helen. "And walking, with footsteps. Before, there was nothing so now I can hear myself walking. It is different."
Neil recalls the first time he encountered what he thought might be birdsong. "One morning when I went to the church, I was hearing this beep-beep, beep-beep and I realised maybe it was birdsong. My friend who's hearing came up and said good morning. I said, 'What I've been listening to, is it the birds singing?' And he said, 'Hang on a minute. Oh yes! You can hear that?' Yea, shocked it was the first time."
"The situation the Robinsons are in, it's not necessarily a clear-cut decision as to whether to go for an implant and that's one of the things we're trying to learn is what will really help them make the best decision for them," said Dr Carl Verschuur, Director of USAIS. "If you treat hearing loss effectively, that can have a hugely positive influence on people's relationships as well."