Patients who have a cochlear implant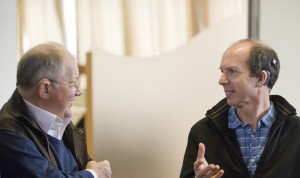 This page is designed for our patients who have a cochlear implant.
MRI Scan Precaution Reminder: Are you aware you need to let us know if you / your child is scheduled for an MRI scan? This applies to whichever body part is being scanned. Cochlear implant users need certain safety precautions to be taken before an MRI is carried out.
Appointments
Patients will continue to attend our centre for appointments after their cochlear implant surgery. Tuning takes place about 4 weeks after surgery. During the time between surgery and tuning the patient will be invited back to the Auditory Implant Service for their post operation appointment with the ENT Consultant. Also they will be given an opportunity to look at their speech processor and the kit that comes with it.
The tuning process is the adjustment of the speech processor to suit the individual. Several tuning sessions are required to reach the optimal settings, and for children this is incorporated into a play activity to make the sessions as enjoyable as possible.
Patients will be offered follow-up appointments by one of our clinic secretaries once tuning is complete.
If you struggle with transport for medical appointments please visit the useful links section of our website for the Good Neighbours Support Service.
Repairs
We have a spares and repairs hotline which is 023 80 58 4068 or you can email ais.repairs@soton.ac.uk. Our office opening hours are 9am-5pm Monday to Thursday, and 9am-4.30pm on Friday. Repairs requests received after 1pm will usually be dealt with the following day. We are closed on bank holidays. During University Closure Days (Easter and Christmas) we operate a limited repairs service. Details of these will be advertised on our website.
Patients who have a wireless accessory from Cochlear
User Guide for the Cochlear Wireless Accessories including troubleshooting guides and videos.
Safety with a cochlear implant
Each of the cochlear implant manufacturers have their own safety precautions for use of the cochlear implant. They have developed safety guidelines in collaboration with the BCIG which are helpful to refer to if you have any concerns. Visit http://www.bcig.org.uk/safety/ for the new guidance.
Self-funded service
This service is available to adults who already have one cochlear implant and would like to consider a second cochlear implant in their other ear. Please click here for more information.
Medical Alerts
Are you aware you can order an emblem (jewellery, wrist watch) for you / your child? In case of emergency this emblem will alert the medical professionals about your cochlear implant. There are two options; the first option is a paid service with the annual subscription charge from http://www.medicalert.org.uk. In case of emergency the medical professionals will phone the medicalert team and get the details about your cochlear implant from them. The second option comes with a one off charge from http://www.universalmedicalid.co.uk , where your emblem can be engraved with any details you wish (e.g. name, ear implanted or any contraindications associated with CI). If you have allergies to metal, the ID Band Company http://www.theidbandco.com/Home.aspx offer a variety of alternative materials such as silicone and fabric.
Vaccinations
REMINDER – All cochlear implant users should be fully vaccinated against pneumococcal bacteria. The current government advice is:
Adults should be vaccinated with the PPV vaccine (pneumovax)
Children under 2 are covered by the vaccinations in the childhood immunisation programme (PCV series)
Children over 2 should be vaccinated with the PPV vaccine (pneumovax)
If you are unsure of your (child's) immunisation status please contact your GP to check.
Resources for children with Cochlear Implants
The following link is useful for parents who are looking for CI resources for their child: http://www.mybrotherjohn.co.uk/
Customise your cochlear implant
Visit Beautiful Belle's world for tips on how to customise your CI and a link to the Etsy shop where you can buy accessories from one of our service user's parents. Remember that the sound processor remains property of the NHS so any customisations should be able to be removed.
Patient Workshops
We offer different workshops to our patients so that they can gain the maximum benefit from their cochlear implant. Topics include: using the telephone, voice training and tinnitus. For more information click here.
Social Events
We organise social events for our patients which gives them a chance to meet Auditory Implant Service staff as well as other people with a cochlear implant. Previous events have included; Chinese New Year, our 21st birthday celebrations, a summer fete and outings to Marwell Zoo and Adventure Wonderland. Details of upcoming events can be found here.
There are several support groups for people with cochlear implants, or under assessment for an implant. The most local groups are CI Southern Counties and CI South West. They hold regular social events and everyone is welcome, regardless of where you are in your cochlear implant journey.
Patient Newsletters
We keep patients up to date with news from the Auditory Implant Service twice a year by sending newsletters in the post. Copies of previous newsletters can be found below.
Patient Newsletter Summer 2018
Patient Newsletter Summer 2017 Patient Newsletter Winter 2017
Patient Newsletter Summer 2016 Patient Newsletter Winter 2016
Patient Newsletter Winter 2015 Patient Newsletter Summer 2015
Patient Newsletter Winter 2014 Patient Newsletter Summer 2014
Patients Newsletter Winter 2013 Patients Newsletter Summer 2013
Patients Newsletter Winter 2012 Patient Newsletter Summer 2012
Patient Newsletter Winter 2011 Patient Newsletter Summer 2011