National Cochlear Implant Users' Association AGM 8th June 2019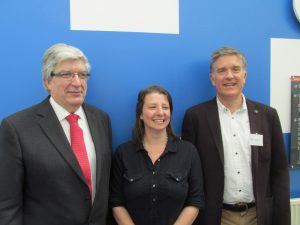 From left to right; Nigel Williams (NCIUA Chair), Anne-Marie Dickinson (Manchester Royal Infirmary) and Carl Verschuur (Director of USAIS)
The National Cochlear Implant Users' Association (https://www.nciua.org.uk/) , which represents all cochlear implant recipients across the UK, held their annual general meeting in Birkbeck College, London on Saturday 8th June 2019.
Carl Verschuur, Director of USAIS gave a talk on the "electro-haptic stimulation" project which is taking place in Southampton (trialing new ways to stimulate the sensation of touch via "haptic" devices connected to the wrist, to enhance cochlear implant hearing – see electrohaptics.co.uk. Carl also led an interactive session on the links between dementia and hearing loss and how cochlear implantation may be able to help people with dementia.
Padraig Kitterick from Nottingham talked about the bilateral cochlear implantation foundation trial and Anne-Marie Dickinson from Manchester explained how to encourage referrals and awareness of cochlear implantation.
More information can be found via https://www.nciua.org.uk/latest-new/conference-presentations/