New Training Courses for Professionals
We have just published our training programme for 2013-14.
We run a long established and well respected training programme for professionals with interests in Audiology, Cochlear Implants and other implantable devices.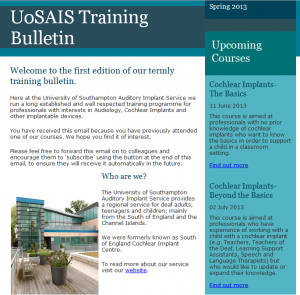 Details of our upcoming courses can be found by clicking 'Training' on the left hand menu, or visit our 'Professionals' Area' for this and much more.
If you would like to be kept up to date with our training programme then please email ais@soton.ac.uk and ask to subscribe to our Training E-Newsletter.
We send out these newsletters by email every term and update you on new courses, feedback from recent courses and more.