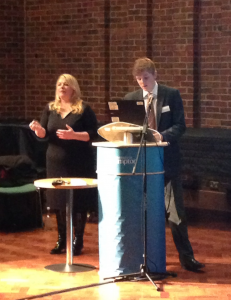 Jack Moodie, one of our patients who has bilateral (one on each side) cochlear implants gave a presentation at a conference we held in April 2013 for the National Paediatric Bilateral Audit.
He spoke about how he came to the decision to have a second cochlear implant because at the time his first operation was carried out, the NHS did not routinely fund two cochlear implants for children. Once the NHS guidelines changed and he was offered the opportunity to receive a second implant, he had to consider whether it was the right decision for him.
Below is an excerpt of the speech. To read it in full click here.
"Good morning everyone. My name is Jack Moodie and I am seventeen years old. I have been asked to try and give you some of my thoughts of my experiences and expectations about making the choice of whether or not to have the second cochlear implant.
Let me start off by giving you some of my background which led to me getting my first implant at 8 years old. I was born in San Francisco, where I was diagnosed severe to profoundly deaf at 18 months old. I was immediately put into the San Francisco Speech and Hearing Centre for two years and was given two powerful, digital hearing aids. There, I received intensive therapy on my speech and language from fully qualified Teachers of the Deaf in small classes of 5 or 6. At 3 and half years old, I moved back to England with my parents and ended up attending Mary Hare Primary School for seven years. Although I was assessed every year to see whether I needed or would qualify for a cochlear implant, my hearing was a little too good and my doctors said that I was making good progress with my hearing aids. But at 8 years old, my hearing had worsened and fell into the criteria of requiring a cochlear implant…"