The Auditory Implant Service has appointed a new Director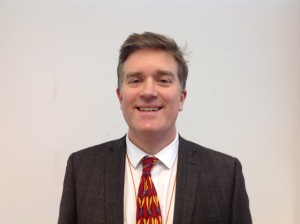 We are pleased to announce that Dr Carl Verschuur has been appointed as the new Director of the University of Southampton Auditory Implant Service and is taking over directly from Julie Brinton, who retired at the end of 2013.
Carl is a clinical audiologist, educator and researcher who originally qualified with an MSc in Audiology at the University of Southampton in 1991. He worked in clinical and NHS management jobs before coming to work at the (then) South of England Cochlear Implant Centre from 1999 to 2004 and has worked as a lecturer in Audiology, also at the University of Southampton, from 2004 until now.
He is very excited and honoured to be taking up the new post and is very much looking forward to carrying on the excellent job of Julie Brinton and all the staff at the centre.  Carl is particularly interested in helping to improve outcomes for all auditory implant users through the best possible individualised care and is keen to ensure that patients benefit from all the latest research and medical advances, but also that the "personal touch", which is such a strength of the Service, is maintained and developed.  He starts officially at the beginning of January, although for the first few weeks will be partly handing over tasks in his old job.