Melanie wins Bronze at the Deaflympics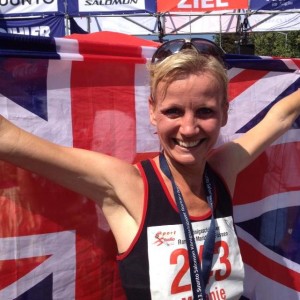 In this Summer's Deaflympic Games, Melanie Jewett (one of our cochlear implant patients) claimed Team GB's first medal in the marathon – a bronze!
The marathon was held away from the main games themselves and took place in Fussen, Germany,  it was a stunning course but very hot on the day which made it a tough race and very hard going, but Mel successfully took the bronze medal behind Switzerland (gold) and Poland (silver).  She said it was one of her proudest and most overwhelming moments ever and she was and still is ecstatically happy with the result.
Mel then travelled on to Sofia, Bulgaria where the rest of the Deaflympic Games were being held and met up with the rest of the team. Just 8 days after the marathon, Mel took part in the 10,000m on track in blistering conditions of 38 degrees.  Mel said "I was very happy to come 6th out of 12 competitors, especially as it was so hot that 4 runners collapsed with 3 needing serious medical treatment,  it was quite scary to see this and so I took check of myself and just made sure I finished in a good time, but in one piece."
Summing up her experience, she told us "the Deaflympic Games have been one of the most amazing 3 weeks I have ever experienced,  it was great living like an athlete full-time with very like minded people and it has made me all the more determined to return in four years time when the Deaflympics will next be held in Turkey.  Hopefully before this, I can also attend the World Champs in south Africa as well."
Congratulations to Mel from all the staff at the Auditory Implant Service