Major work due to commence at Southampton General Hospital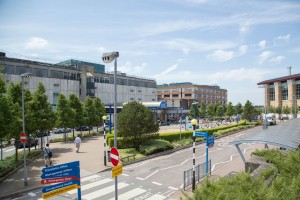 Letter sent from Fiona Dalton, Chief Executive Officer
We're redeveloping the main entrance to Southampton General Hospital over the coming months; transforming the current area (built in the 1980s) into a welcoming and comfortable new space for our patients, visitors and staff.
In order to carry out this work, the road layout immediately outside the main entrance has changed and the front entrance drop-off point and licensed vehicles rank (taxis) will move to a different location.
From June 2015* until the end of the year the main entrance will be closed but we will direct everyone to alternative entrances/exits. It may take patients and visitors slightly longer to get to the department they need, so please allow a little extra time to get to appointments.
What we're doing to help patients and visitors during the work:
There will be a temporary reception and a staffed kiosk on the green outside the current main entrance.
Alternative entrances will be clearly signposted around the site and there will be additional signage around the hospital.
We're providing additional volunteers at each of the entrances to help guide people around the hospital.
Additional wheelchairs will be available for those who might have difficulty walking the extra distance to the alternative entrances. These will be located next to the temporary reception.
All outpatients will be sent the map in advance of their appointment, unless they've opted to receive appointment notifications by phone, email or SMS, in which case the message will direct them to our website to print the map. The map will also be made available on our website home page and promoted via social media.
Visit www.uhs.nhs.uk should you have any questions about this project.