Life on Mute Roadshow with MED-EL
The University of Southampton's Auditory Implant Service is helping to highlight the impact of hearing loss and the importance of receiving early diagnosis.
The Auditory Implant Service is joining forces with MED-EL, a hearing implant manufacturer, to offer free hearing screening in Southampton's Guildhall Square on Thursday 15 September as part of a national roadshow, called Life on Mute. Staff and students are encouraged to come along for a free hearing screening and consultation with an audiologist between 10.30 am and 4.30pm.
Dr Carl Verschuur, Director of the Auditory Implant Service, said: "On average it takes ten years for people to address their hearing loss so this campaign is about addressing your hearing issues early by visiting your GP or a specialist and maintaining regular check-ups. We wanted to get involved because the thought of losing your hearing can obviously be worrying but there's a lot that people can do about it. We would encourage anyone who thinks they, or their family, are experiencing any form of hearing loss to come and visit us in Guildhall Square to speak to one of our team."
New research, commissioned by MED-EL, has shown that hearing 'I love you' from a partner or loved one is the moment Sotonians would miss the most if they were to lose their hearing. Over a quarter of people identified this as their most cherished moment, closely followed by hearing their children's first words, by one in five.
People from across Southampton were asked to consider what key moments in life they would miss the most if they were no longer able to hear. In addition to family, unsurprisingly for a city by the water, 15 per cent stated they would miss the sound of the sea on a summer holiday, ahead of hearing their favourite sports team score (7.5 per cent) or favourite band playing live (9 per cent). Queen's operatic rock anthem, Bohemian Rhapsody, was also picked at the number one song they would miss (19.4 per cent).
Cassandra Brown, Managing Director, MED-EL UK said, "As a company that develops solutions for people with hearing loss, we feel we have a responsibility to help improve the UK's hearing health. We are delighted therefore to be able to support the NHS in encouraging the people of Southampton to get their hearing tested and encourage a loved one to do the same so those key moments in life can be heard."
It is estimated that there are more than 11 million people currently living with hearing loss in the UK – one in six.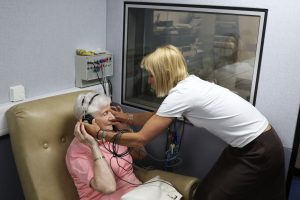 According to hearing charity, Action on Hearing Loss, by 2035 this is expected to rise to one in five of the population. Currently it takes on average a decade for people to address their hearing loss meaning that many people may not be diagnosed for what is a treatable condition.
NHS guidelines identify common signs for hearing loss as:
difficulty hearing other people clearly and misunderstanding what they say, especially in group situations
asking people to repeat themselves
listening to music or watching television with the volume higher than other people need
difficulty hearing the telephone or doorbell
finding it difficult to tell which direction noise is coming from
regularly feeling tired or stressed, from having to concentrate while listening
Read the full Life on Mute Wrap-up Report