"I have now had an implant for four years and I cannot begin to explain how it helps me to get on with life"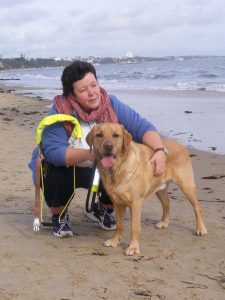 My name is Julie. At the age of 42 I contracted meningococcal meningitis the results of which left me totally blind, totally deaf in my right ear and with about 40% hearing in my left ear. As you can imagine this all came as something of a shock. My balance had been greatly affected and it took me some time to learn to walk again as well as try to conquer the fear that came with being deaf and blind.
I was rebuilding my life to the best of my ability but four years after the original illness I suffered a complication and overnight my remaining hearing vanished. I cannot begin to explain the depths of despair and fear. I was totally in darkness and the only form of communication was to write letter by letter slowly on my hand.
Within a couple of months I was referred to see Mr Hellier. I am sure it was a challenging appointment but with the help of my husband writing on my hand he told me that he would try to help me. In the months that followed my original appointment a tiny bit of hearing returned in my left ear. I was fitted with a power hearing aid. The initial setup involved wearing headphones and a box on a strap around my neck. It was horrific and sounded awful.
The staff at the Cochlear Implant Centre at Southampton went above and beyond the call of duty to help me throughout my assessment process and afterwards. It was quite a challenge for them to be able to show me how to change my microphone by pushing out a tiny pin with a mini screwdriver. This was all done prior to the operation so that I could choose which processor would suit my needs.
I have to tell you that I was petrified about having the operation. My previous hospital experience involved two weeks on a life support machine followed by intensive care and rehabilitation. In early December 2012 Mr Hellier carried out the operation at Southampton General. Although the operation was a success my overnight stay in Southampton was a nightmare. They did not really cope with the challenge of having a deaf and blind patient.
The audiologist and coordinator from Southampton came to my house in January for the switch on. I was so lucky. After five years of total deafness in my right ear I now had sound. They had to retune it three times before they left the house because I was greedy for sound.
I have now had an implant for four years and I cannot begin to explain how it helps me to get on with life. Without the visual distractions I am totally dependent on sound. I have found that I have started to be able to communicate again in both French and Spanish and last year we went travelling in Asia for seven weeks. It was a bit of a challenge to find a back pack that would not knock the cochlear implant off my head.
I think my greatest achievement since having the CI was to be brave enough to fly unaccompanied with just help from airport staff.
The most fascinating sound I have experienced was on Safari in Kenya for my 50th birthday. I listened to a blow by blow account from my sons who were watching a hyena hunt a gazelle. Once the hyena had caught the gazelle we were nearby and I could hear it crunching on the bones!
The difference in being deaf as well as blind is vast. There are times when sound can be so overwhelming and I have no visual way of seeing where it comes from. I do function better in a tranquil environment and in a noisy situation such as screaming children on an airplane my husband is jealous that I can simply turn off my implant.
I think that my implant has been such a success because I have to use sound instead of sight. I use a talking phone, talking computer, talking tape measure, talking colour reader and voice labels in the kitchen. My implant is in overdrive for about 16 hours a day.
Thank you does not cover the appreciation to the staff at the Implant Centre. I am eternally grateful.