Hampshire Police Deaf Access Consultation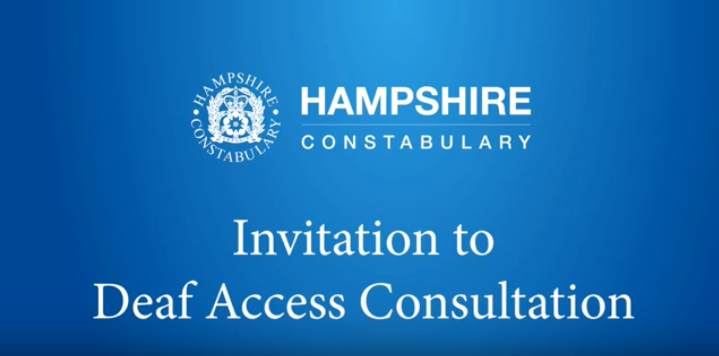 Hampshire Police want your views about D/deaf access.
Help Hampshire Police keep a promise to give full access for D/deaf people to police services in our local communities.
Do you want to come to an event for D/deaf, deafened, deafblind, and hard-of-hearing people in October 2019?
Your experiences and views are important to make police services more effective and accessible.
This is what we want to achieve, if there is enough interest from you?
To askyou about D/deaf access for police services in Hampshire, Southampton, Portsmouth and the Isle of Wight.
To raisetrust and confidenceamong our D/deaf, deafened, deafblind and hard-of-hearing communities in recognising, preventing, and reporting crime.
To learn how we can tell if D/deaf victims of crime are satisfied with Hampshire Police?
When?
A one-day event held on a Saturday or a Sunday from 10:00am to 4:00pm during October 2019.
Where?
Hampshire Police's Netley training headquarters off Hamble Lane, Hamble, Southampton.
These are our ideas so far for the event:

Presentations repeating throughout the day, accompanied by Question and Answer sessions, exhibitions, displays and activities.
How are police accessible to D/deaf people?

How much do you know about how to contact the police? Text, email, phone?
How would you prefer to contact the police?
What are Police Link Officers for Deaf people (PLOD)?
Hampshire Police is due to increase its numbers of Police Link Officers for Deaf people (PLOD) from the current number of 16 to 30 by this summer.
You could meet our Link officers at this event, improving knowledge and understanding of the PLOD service's roles and responsibilities.
October 2019 is the 20th anniversary of the PLOD service.
Domestic Abuse
Police want to know if D/deaf victims of domestic abuse feel confident in reporting to Hampshire Police, and accessing support services.
This is important because Her Majesty's Inspectorate of Constabulary and Fire & Rescue Services (HMICFRS) in 2018 told all police forces to increase their understanding of the reasons why victims do not always support police action. Police will be inspected again in this area this year.
We must work closer with our D/deaf communities to help improve the police response to domestic abuse situations.
Hate Crime
How many of us really know what is a hate crime?
It's important because anyone with a hearing condition can be a victim of prejudice and discrimination, just because of ignorance and hostility.
Our event can have a presentation explaining exactly what is a hate crime? How to report these crimes, and what support you can receive once it's been reported.
There is a Government campaign with a clear message that anyone targeting a person with a disability may be committing a hate crime. Put simply, "it's not just offensive, it's an offence."
Fraud
How much do you know about our Government's new Victims Strategy? This recognises that "fraud and cybercrime accounted for nearly half of all crime in England and Wales in 2017." page 15.
D/deaf people can be affected by many types of fraud, so we need to inform D/deaf people about how and where support is available.
Counter-Terrorism
Would you know how to react and stay safe in a terrorist attack?
If we offered you a presentation about how D/deaf people would be informed and protected during a terrorist attack, would you be interested in coming to receive our safety advice?
Road Safety
How many of us know how to stay safe on the roads by checking our senses?
The importance of medical checks for hearing and eyesight in older aged motorists can be made available at this consultation event through the services of the local Older Drivers' Forum.
We think we have loads of good ideas, but would they make you come to our event in October 2019?
Your ideas are also invited. What else do you think would be useful for us and Hampshire Police?
Here is the short signed/subtitled film to accompany the invitation:
And here is the contact email at Hampshire Police:
deaf.link@hampshire.pnn.police.uk