Get involved in planning research on remote care

We would like to involve people using cochlear implants in the planning and monitoring of our research.  This will involve focus groups and meetings where you will give your perspective as a person using a cochlear implant.  You would work as an equal partner with the research team.
Our research project is funded by The Health Foundation and aims to look into offering some remote care to adults using cochlear implants.  This may involve being able to test your hearing at home using a mobile app or computer, doing a little of your own tuning and having access to a website to manage all other aspects of your cochlear implant care.  We need involvement from people who use our services as your perspective will be different from ours, and you are the experts in what cochlear implant users need.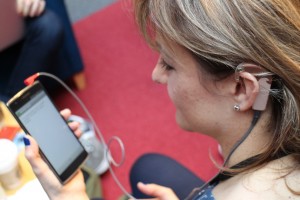 This position is voluntary but your travel expenses would be paid.  You don't need any previous experience, just a willingness to give your perspective.  If you would like to be involved but cannot travel, we would love your input by phone, email or post and would share our plans with you in this way.
Please get in touch with any questions or if you are interested to find out more.
Helen Cullington
H.Cullington@Southampton.ac.uk
023 80 597606