Drumming for Cochlear Implantees & others
by Sarah Smith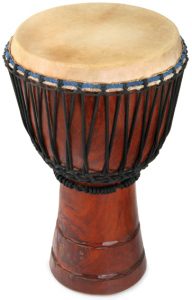 I have had a cochlear implant for a couple of years now and am delighted with it except for music making. When I retired I was really looking forward to singing in a choir and playing in ensembles again however as those of us with implants discover music is not as it was!
I was however lucky enough to go on a music workshop provided by my implant centre at Southampton, we found out how musical sounds were affected by the processor, heard how a previous patient had 'got back into' music, tried out the computer programme, 'More From Music' that the University of Southampton has developed and played a piece on African drums.
This last was absolutely wonderful as we had all the fun and stimulation of playing in a group and following a conductor without the problems of pitch.
I would love to play again and hope there are other implantees out there who would like to do so too. I have been in touch with Hampshire Music service who run world music sessions including drumming who would be delighted to run a workshop for us implantees, and our friends and families. I am envisaging we would hold an initial session in Fleet, (Junction 4a on the M3) and if we had a good time repeat on a termly basis. Experience would not be necessary and would be open to everyone who would like to 'have a go' for a couple of hours. There would of course be time for refreshments and chat as well.
If you think this might be for you, and I do hope you do, please e-mail me: cidrumming16@gmail.com and I will send further details.