A Crafty Idea- Learn how to make a protective cover for your remote control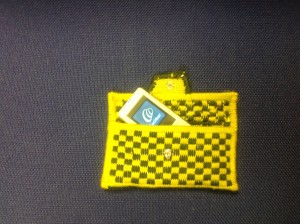 In our Winter 2013 Newsletter we included a short excerpt of instructions written by one of our cochlear implant patients, Jean Phillips, which explains how to make a protective cover for her remote control.
Her full instructions are below for anyone who would like to try making their own…
It was the little green purse that started it. I always like to have a spare battery for my processor with me – 'just in case'! But I couldn't find a case to fit it which would protect the terminals from all the other 'just in case' clutter which I carry about in my handbag,so I thought that I would make one. 
Searching in my craft cupboard I found some small pieces of 12=1″ tapestry canvas, and this gave me the idea of making a protective cover for my remote control as well. The pictures show the result.
 For the remote control purse I cut a piece of canvas 6″ wide by 7″ long, then marked it across with a pencil line where it needed to be folded (these will be embroidered over so they won't show) allow 11/2 "down for the front flap .3″ for the back. I did this so that I could work a separate pattern on the back than on the front, because of course, it has to be embroidered flat! The two front sections I embroidered long stitch squares ,each over 4squares of canvas in alternate colours On the back I worked the diagonal triangles in long stitch, filling them in with single tent stitch (Figure 3 & 4) I used up some of the spare tapestry yarns that I have acquired over the years! When embroidering, I left a 4 square broader empty, all around the edges. When the main embroidery was finished I turned one empty square over to the wrong side of the work o booth the top and bottom edges to give a smooth line and then  'oversewed' along the top and bottom edges of the canvas to cover the empty rows (working from the front of the work). This done, I folded in one empty square almong the side edges and then. Folded the 2 lower worked areas to form the purse shape, and 'tacked' them together so that the boarder holes matched. Then 'over-sewed' the edges together on these two sides and continued along the sides of the 'flap'.
NOTE.   I added a fastening tab to the flap. To do this I joined a small square of canvas to the flap section before I embroidered .I over lapped the canvases by 3 or 4 squares tacked   them firmly so that the canvas  squares matched and then embroidered them together as I worked the main part and used tent stitch on the flap. The purse is fastened with a press stud.
…………………………………………………………………………………………………………………………….
I find that tapestry yarn is quite expensive these days, but for projects like this, you can get away with using leftover knitting yarns, softly spun 4-ply is usually adequate for 12=1" canvas, and fine double-knit for 10 and 8 count canvas. It is trial and error really, but much cheaper if you have oddments.
The battery purse was made in a similar way to fit the size.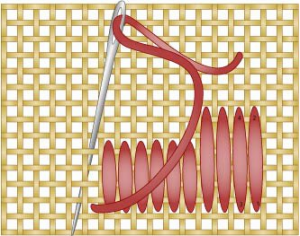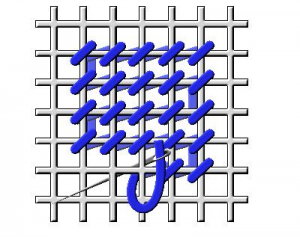 ————————————————————————————————————————Things I've learnt over the years…
 If you keep talking, you don't have to listen!
It is they who don't know what the subject is, not you!
When visiting, if you don't hear what your hostess says, say brightly "oh, yes please! ..e.and just one sugar!" And you get a cup of tea!