CI South West Summer Social
Please note this event is not being run by USAIS.
Saturday, 16 July 2016
1:30pm – 4:30pm
The Hop Pole (Bath Ales)
7, Albion Buildings
Upper Bristol Rd
Bath BA1 3AR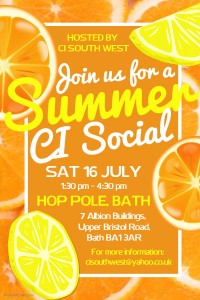 A repeat of the popular Summer Social at the Hop Pole pub in Bath. When you arrive, come and look for us in the pub, or in the extensive beer garden if it's a lovely day!
All CI users, candidates, friends, family and other interested folks are welcome to attend. Please do help spread the word!
This event is more family friendly than most, located directly across the street from the large children's playground at the Royal Victoria Park in Bath.
Travelling Notes: 
The Hop Pole is part of the Bath Ales chain of pubs and has good food, tea and coffee all day in addition to ales. This particular pub is located a bit further west out of town on the Upper Bristol Road. If you arrive by train, it is a 15-20 minute walk (mostly flat) to the pub and park, or if you prefer the scenic route you can go by way of the shopping high street, the Circus, and the Royal Crescent before dipping back down to Royal Victoria Park and Upper Bristol Road.
It is also possible to catch a bus to the pub and park from the Bath central bus station, which is located next to the Bath Spa train station.
If you are travelling to this event from Bristol, you might consider taking the Bristol to Bath X39 bus route which passes directly in front of the pub (look for the park and children's playground on your left, get off there and walk to the Hop Pole).
There is limited parking in central Bath and near the pub, but it may be easier to use the Park and Ride and come into Bath by bus.
Please don't hesitate to ask if you have questions, want more directions or pointers, or suggestions for what to do in Bath (cisouthwest@yahoo.co.uk)
http://www.bathales.com/our-pubs/pid/the-hop-pole/
Details of playground equipment at Royal Victoria Park:http://www.bathnes.gov.uk/services/sport-leisure-and-parks/play-areas-and-playgrounds