When: Saturday 27 February 2016
Time: 1:30pm-4:00pm
Where: Pitcher and Piano, Reading, Berkshire
Who: Whether you're curious about CI, undergoing the CI assessment process, a CI newbie, or a veteran CI user, you are all welcome to come along, as are your friends and family.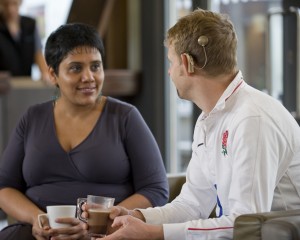 CI Berkshire and CI South West (UK) are joining for a social afternoon of fun and relaxation in a reserved secluded area (for a better hearing environment) at the Pitcher and Piano, in Reading, Berkshire. The venue is a short, straight 3 to 4 minute walk down the road from Reading Station.
Music at the venue will be lowered for the time we are there, this is to accommodate those who find hearing in noisy areas a challenge.
Please note this event is not being run by AIS.
We are CI users from Oxfordshire, East and West Berkshire, South West, Hampshire and Greater London Area. The main purpose of this group is to provide an opportunity for CI Users and Candidates to meet each other, ask questions and share experiences in a social setting. If you are a CI Candidate and would like one on one meeting beforehand before the crowd arrive do let me know and I will gladly put you in touch with someone within your area/ CI Centre who would be willing to arrive earlier when it is quieter.
To help me gauge numbers for reservations as floor space is limited please email me at michelemotteux@outlook.com and this event can be found on Facebook at: Cochlear Implant Events UK.