Shaken Not Stirred Charity Ball leads to donation for Auditory Implant Service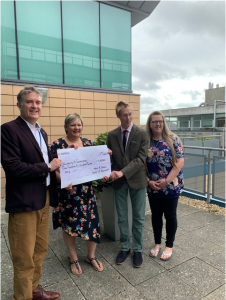 Photo: From left to right, Carl Verschuur, Rachel Drew, Shaun Drew and Joy Davenport
After Shaun Drew started using his new cochlear implant, his family were inspired to fund-raise to help the University of Southampton Auditory Implant Service (USAIS).
In April 2019 Rachel Drew, Shaun's step-mum, and Joy Davenport organised a charity ball at Lakeview Manor in Dunkeswell (Devon). Guests enjoyed dinner, dancing to a live band and a fork buffet as well as a Charity Auction. Guests supported the event knowing that funds were being raised for two charities; See the Future and USAIS. The team raised an amazing £1,500 for USAIS, and Rachel, Joy and Shaun arrived in Building 19 at Southampton University on 11th August 2019 to present the cheque. During their visit they were able to meet with staff at USAIS and explain how they had raised their funds. Shaun updated staff about the recent changes in his life. They presented a large cheque which was accepted by Carl Verschuur, Director at USAIS.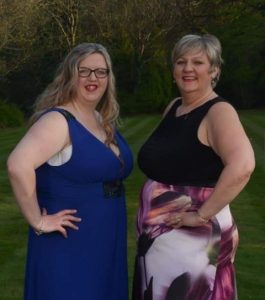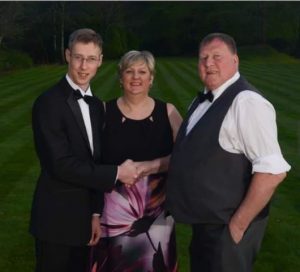 Photos: Joy Davenport and the Drew Family dressed up for the charity ball
Carl thanked the family, explaining that there are a number of activities which USAIS engages in, or wants to engage in, which go beyond what is funded by the NHS, so charitable donations are hugely appreciated. This includes development of the clinic area for the benefit of USAIS patients, for research undertaken at USAIS as well as education and training for patients and their families which would not otherwise be possible.
USAIS is very grateful to Rachel and Joy for their fund-raising work and to Shaun for providing the inspiration.
Photo: Shaun Drew chatting to staff just before the presentation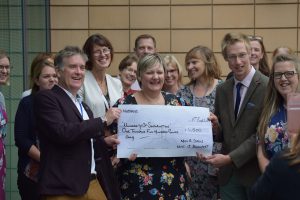 Photo: USAIS staff enjoyed meeting Rachel, Shaun and Joy at the presentation