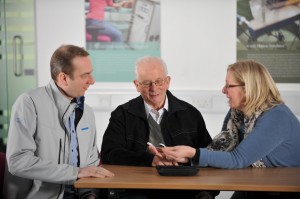 This page is designed for patients who are currently having an assessment for a cochlear implant or who would like to find out more about what is involved.
What does a cochlear implant assessment at the Auditory Implant Service involve?
Click on the links below to get an idea about the assessment schedules for adults and children.


Useful documents
Before you commence an assessment at our centre you will be sent several documents containing important information. All of these can be viewed below:
Directions to University of Southampton Auditory Implant Service
Take a Virtual Tour of our clinic
Where to eat at the University of Southampton
You may also wish to read some of our information leaflets, or find out about the benefits of cochlear implants.
Device Choice
As part of the assessment process, you will have the opportunity to find out which cochlear implant devices we offer. As long as there are no medical reasons for you to have a particular device, you will be able to choose which one you want.
Below is the web link for our online device choice tool which is given to patients at the device choice information session during their cochlear implant assessment:

Experiences of other patients
Hear from adult patients or parents about their/their child's cochlear implant journey here.
Contact us
If you have questions at any stage of your cochlear implant assessment then please get in touch with us.