AB Sports Scholarship Winner – "Having a cochlear implant has been a real life-changer."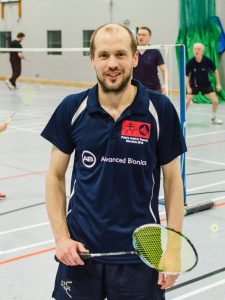 My name is Pete and I come from a small town in Somerset. I am 37 years old and have been hard of hearing since birth. I have been wearing hearing aids since I was very young and often struggled in many situations, as it made me uncertain and nervous about the conversation.
I've never really had the courage to go and do new things. I have looked into cochlear implants over the last fifteen years or so but didn't think it was something that I needed but it was something that I kept an open mind about
I started playing badminton at a young age, around 14 or so as my dad played for a club. He created a juniors club so that I would have somewhere to play. This was the start of my relationship with badminton!
I have mainly played socially until I was about 26 and then I joined a competitive club that plays in a league.
I have only played at hearing clubs so I was unaware of any deaf badminton. My friend Debra sent me an email about the GB Deaf badminton team. I joined the GB Deaf Badminton team about four years ago and have been attending training sessions with them since. It was from being in this environment and seeing how other players really benefited from a cochlear implant, made me rethink again about looking into it.
My hearing had been getting worse over the years and I was struggling to hear my two young children properly, as well as struggling to listen to music properly. My hearing aids were giving out the maximum amount they could manage so I knew at this point that I needed to look at other options. I think the best thing for me was the timing, as it just felt like the right time to get it.
I went to AIS in Southampton and after scoring 0% on one of the listening tests, it hit home exactly how much I was struggling. AIS then said that I was able to have a CI and was given the choice of cochlear implant manufacturers. I choose to go with Advanced Bionics, mainly because of the options they were able to offer, as well as being linked with Phonak which I am used to.
Since the operation, I managed to get 56% in the same hearing test I previously got 0%. And my results have got better on each check-up. I have been very fortunate that the CI has worked so well for me as you never know what the outcome will be as everyone is completely different.
I can also hear music so much better now, I am going through my whole music collection and music that I didn't get on well with before is now easier to listen to, it's a whole new experience.
The 8th European Deaf Badminton Championships were coming up, but as in previous years, I was not planning on going due to not being able to afford it. I found out that Advanced Bionics run a scholarship scheme so I decided to put my name forward. I was rather shocked when I won as it is not normally something that happens to me!
So since then, I have been playing twice as much badminton! I know the standard will be high and I am really looking forward to the challenge. I am entering Badminton England Bronze tournaments and the annual deaf badminton tournament held in York. I wouldn't really be able to afford to play at another club, so to be able to do all these things with the scholarship it has been brilliant. And I haven't even gone to the main event yet! The only downside is the lack of family time, but they are very supportive of me.
Being the sort of person that does not normally have these opportunities, it's fantastic that I am able to experience all this. Having a cochlear implant has been a real life changer. I am not finding it so difficult in situations that I would have struggled with before. I am also able to interact with my children better, which was one of the main reasons for getting an implant. It's been great not to feel left out of a conversation and makes conversations much easier.
Everyone at AIS Southampton has been really helpful, from the surgeon to the receptionist. I couldn't have planned this journey better. Credit must go to everyone who has been part of my journey.
I am looking forward to my 12-month check-up!
Find out more about the Advanced Bionics Sport Scholarship.