Carl Verschuur – Director of the Auditory Implant Service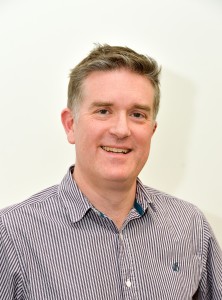 Carl Verschuur is the Director of the Auditory Implant Service (AIS). AIS is based at Southampton University and sits within the Faculty of Engineering and Physical Science (FEPS). Jon Nurse is the Faculty Communication and Impact Officer and recently interviewed Carl about his role, background and work within AIS. If you would like to know more about our Director, read on…..
What is your role?
I am a Professorial Fellow (Enterprise) and Director of the University of Southampton Auditory Implant Service (USAIS). I have overall responsibility for the running of the service, so quite a lot of my time is taken up with management responsibilities. Around a third of my time is spent on academic activities.
I have a number of PhD students and am involved in several funded research projects related to hearing loss and cochlear implantation. I also champion the unit's research activities and their impact. I am a qualified clinical scientist in audiology by background and maintain a small clinical workload, which includes the assessment and ongoing management of cochlear implant users.
I love the fact that what we do makes such a positive difference to people-cochlear implants really do transform peoples' lives for the better! I also love the way the different elements of the job all connect to, and feed off, each other.
How long have you been at the University?
I have been at the University for 20 years, having worked in the NHS for eight years prior to my time here. I also originally did my master's degree in Audiology at Southampton. For my first five years at the University I worked as a clinical scientist but also contributed to teaching and research.
In 2004, I moved over to an academic role as an audiology lecturer and was programme director for the audiology courses for much of that time, but at the end of 2013 I moved back to the clinical service as overall director.
What is USAIS?
USAIS is a clinical enterprise unit that provides specialised treatment and care for people of all ages who are deaf or hearing-impaired, primarily through provision of auditory implants (cochlear implants and other types of specialist surgical implants).
We are part of the University but most of our funding comes from the NHS. We also provide specialist private services and contribute heavily to teaching and research in audiology, biomedical technology and other areas. We have an incredible team of highly skilled clinical staff and highly specialised administrative support staff and have provided over 1,400 people with auditory implants to date.
How is cutting-edge research being advanced through USAIS?
These are very exciting times in research and we are very fortunate to be sitting within a University environment that means we can collaborate closely with colleagues and make sure we translate activities into patient benefit.
We have just started an ambitious funded project in 'electro-haptic stimulation'-this means boosting the hearing performance and experience of cochlear implant users by providing stimulation of the sensation of touch using 'haptic' technology.
We are also developing new ways to evaluate hearing by recreating real and complex listening environments and assessing different skills important for day to day life, while developing new listening tests that can be used at home or in a local clinic.
Another area (and one I am most closely involved in personally) is improving our understanding of the interface between the inner ear and the implant; this includes development of new tests to help diagnose subtler problems, and development of new ways to assess and manage the immune response to implantation.
We are also undertaking a large scale study rolling out a novel approach to managing cochlear implant users remotely via telemedicine and other remote-care approaches, to support life-long care in a way that is most responsive to patient needs.
What are your goals for USAIS in the coming years?
The big challenge for USAIS is to deal with the ever increasing number of cochlear implant recipients. The NICE (National Institute of Clinical and Health Excellence) guidelines on cochlear implantation recently changed to allow more people than ever to receive NHS-funded cochlear implantation. To help meet this challenge, we are making changes to how our service runs, in particular by introducing a new clinical database to support all our patients.
The research we do also feeds back into this by showing us new ways to manage long-term care, detect problems or issues earlier than we do now, and maximise benefit from the device for all our users.