25th Anniversary Celebrations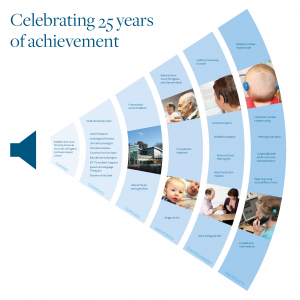 The first individual received a cochlear implant at the Institute of Sound and Vibration Research on this very day in late 1990. Since then the service has grown and developed, first as the South of England Cochlear Implant Centre then later as the University of Southampton Auditory Implant Service, reflecting the provision of new types of auditory implant device and hearing services in addition to cochlear implantation.
During the last 25 years, we have continued to innovate and develop, providing a range of clinical services to support the needs of hearing impaired people and working with colleagues to undertake research, education and development in new technologies and rehabilitative methods to enable those with hearing impairment to flourish and participate fully in all areas of daily life.
As well as being our 25th anniversary, 2015 also marks the year that the 1000th patient received a cochlear implant from our service.  Tune in to BBC South Today so see a feature on our anniversary including interviews with the family of the 1000th implant patient.
For further information on how we celebrated 25 years, please visit the links below:
25th Anniversary Patient Party
The Future of Auditory Implants Scientific Conference